In this blog we look at Microsoft's Windows 10 upgrade and how introducing it within your business could benefit or hinder operations. Four weeks since Microsoft offered its free upgrade, Windows 10 has had more than 75 million installs, so what's all the fuss about?
One of the biggest disappointments of Windows 8 was the unfamiliar user interface, the removal of the start menu and the introduction of the large app tiles. It looks as if Microsoft has listened to the masses and implemented an interface that encompasses the favourable aspects of Windows 7 and 8. The interface will include the recognisable Windows icon in the bottom left of the screen, clicking this will bring up the truly missed start menu which will also include a tile based window as seen in Windows 8 showing recent apps. A blend of both Windows 7 and 8 offers maximum comfort and a familiar interface which employees will be more than happy to use again.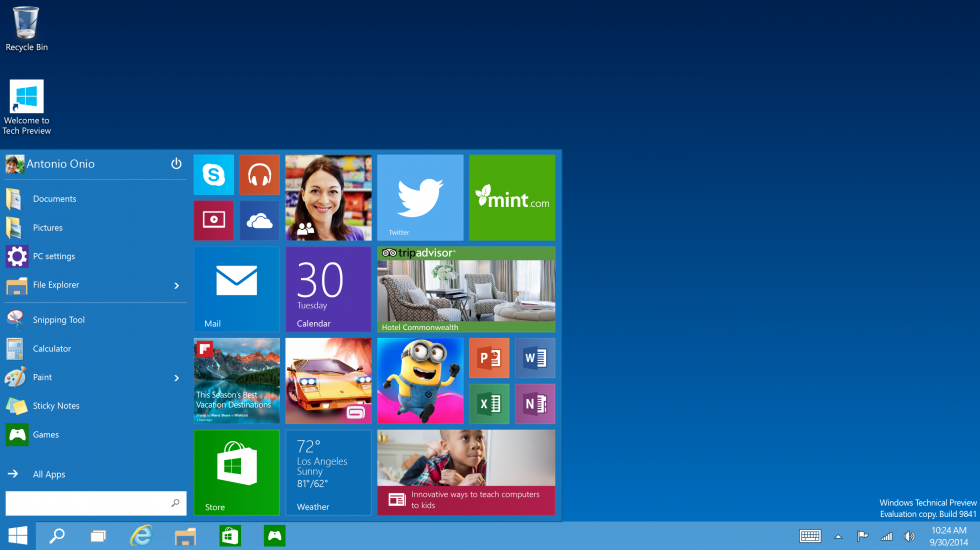 Windows 10 also boasts a number of security features and options ranging from the traditional password to the simpler to use yet more secure method of biometric security allowing either fingerprint or face recognition. These new features, known as Windows Hello will allow employees quick access to their work stations and at the same time offer that all important security needed when handling confidential information and operating in the world of business.
Another benefit of Windows 10 is that it will run on almost any device including smartphones and tablets. This will mean employees can get use to the Windows 10 user interface and not have to learn different ones when using a different device. There's also the benefit of being able to share things between devices more easily.
Microsoft has also introduced Cortana and like Apple's Siri and Google's Now, it will be a virtual assistant that will support employees by allowing them to ask questions, Cortana will also find documents, remind them of day schedules, news updates and even tell them the weather. There's the option to use a microphone and communicate with Cortana verbally or there's the trusted keyboard. Windows 10 also offers a notifications feature giving users reminders and updates which slide in from the side, great for those employees that are forgetful.
One of the pitfalls of rolling out Windows 10 business wide is that it's bound to be both costly and time consuming. Updating existing systems is going to be tricky but Microsoft have made efforts to ensure a pain free installation yet this may be easier said than done. This will mean that businesses may have to consider sticking with their current operating system due to lack of funds or resources and some businesses may decide against switching altogether, instead opting to stay with Windows 7 which is highly popular still. Also there's the issue of how new Windows 10 is, having only recently been released there's bound to be bugs meaning some businesses might want to wait until these have been identified and fixed to allow a cleaner experience.